Help Protect the Integrity of the ASA logo
To consumers, the Automotive Service Association's logo represents a business committed to a heightened Code of Ethics and a quality of service.
ASA members can – and should – display it proudly.
Non-members are not authorized to display it in any form.
Please help us ensure the integrity of our members by reporting incorrect or unauthorized use of the ASA name or logo by any person to us at trademark@asashop.org.
The ASA logo is registered and protected by the United States Patent and Trademark Office. Only current active ASA Members are authorized to display the ASA sign and use ASA logo in their business.
In the event that your membership with ASA expires or is terminated, it is understood that you will immediately remove all ASA logos from display, printed material and any other marketing & advertising materials.
ASA May Initiate Legal Action
If a misuser refuses to comply with ASA's request for compliance, ASA may initiate legal action. ASA reserves the right to execute all options available by law and seek reimbursement for all costs incurred with this process.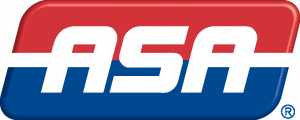 To download the ASA Member logo, login to the Member Portal and click the Resources tab on the left to access either a jpg or png file.