ASA is an association of collision, mechanical and transmission automotive repair shops and is comprised of several categories of members.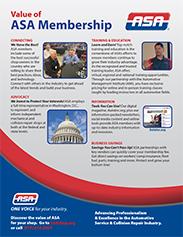 See the Value of ASA for Your Shop
Shop membership is for an automotive service business that provides automotive repairs/services to the motoring public, and/or a business that provides repairs/services to exclusive fleets, such as public utilities.
Do you have more than one shop location? Contact ASA's Membership Dept. to learn more about the benefits of a Multiple Location Membership — saving your business money while covering all your locations and staff.
Associate Membership / Vendor Partner
Educational Membership is for any person actively engaged in training automotive service industry personnel. Educational members are encouraged to join ASA and other participating industry groups to improve the quality of automotive service and the image of those employed in this important industry.
Corporate membership is for an industry-leading company seeking opportunities to strengthen its ties to ASA and that support the goals and mission of the association.
For more information on corporate membership send us an email request .