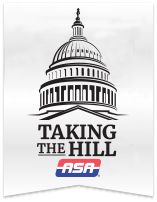 ASA leaders and members are often called upon to present testimony or speeches regarding issues impacting the automotive repair industry on both a state and federal level. Below you will find transcripts from such events.
For your convenience, transcripts have been converted to a PDF format.
ASA Testifies at California DOI Hearing
ASA recently testified before the California Department of Insurance. The agency has proposed a new regulation that will provide guidance and specificity to insurers with respect to the nature and degree of involvement they may have in a consumer's choice of an automotive repair dealer.