Paid Leave in the United States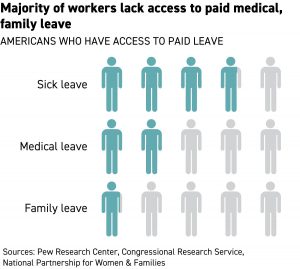 The United States the last remaining wealthy nation in the world that does not require companies to provide paid sick leave to their employees. Instead, the United States has the 1993 Family and Medical Leave Act (FMLA), and a patchwork of state regulations. Right now, 1 in 4 workers lacks access to paid sick leave, half lack access to paid medical leave, and 4 and 5 lack access to paid family leave.
The COVID-19 pandemic brought a new light to this issue, and advisers for former President Donald Trump estimate that having a federal program for paid sick leave could have saved the federal government up to $1 trillion. Now, President Joe Biden is pushing for a federal sick leave program to be included in his $1.7 trillion infrastructure proposal.
See a Politico Pro report on this issue here.